Many paintings appear in Layers of Fear, taking various roles. Some of the most significant are listed below.
The Abduction of Ganymede
Edit
This painting first appears in the entrance hallway at the very beginning of the game, and reappears multiple times throughout the game. Its presence in the game possibly represents the Daughter being taken away from the Artist, either because of the Wife's influence or by the state.
The painting was made in 1635 by artist Rembrandt Harmenszoon van Rijn. It was originally entitled "The Rape of Ganymede". It is considered difficult to interpret, but is often interpreted as being about infant mortality.
Past and Present No.1
Edit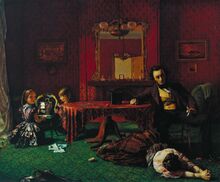 This painting first appears in the entrance hallway at the beginning of the game, and reappears numerous times throughout the game. Its presence in the game seems to represent the Artist's lack of concern for his wife despite her pleas.
This was a painting by artist Augustus Leopold Egg in 1858, and actually represents a man learning of his wife's adultery. It was the first of a series of paintings depicting adultery and its harmful effects.
The Rat Lady
Edit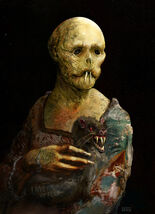 The Rat Lady is presumably a painting by the Artist. Three copies appear inside a room where the "Canvas Crawlers" rat scrawling can be found in Iteration 3. When looked at, the paintings will convulse, off of their canvases, and dissolve into rats which will proceed to run away. It was also shown during one of the game's trailers.
It seems to be a distorted re-imagining of "Lady with an Ermine", which was painted by Leonardo DaVinci around 1489 or 1490. The subject of the painting was Cecilia Gallerani, who was well known for her musical talent. This could potentially connect the painting to the Wife, and by extension connect the Wife to the rats.
Self Portrait of Sir Joshua Reynolds
Edit
This picture is first seen in the prologue when the Artist ventures down to the basement. In front of the painting is a pile of dolls. The painting later shows up again in Iteration 1 when the Artist falls into a trap door.
The painting is a self portrait of Sir Joshua Reynolds, an English painter of great renown. It was painted some time between 1747 and 1749.
Still Life with Fruit on a Stone Ledge
Edit
This painting first appears in the kitchen during the prologue. It also reappears later in the game. At this point, it is also in the kitchen. After looking at it, the fruit in the painting will begin to turn into apples and fall to the ground.
This painting was originally painted by Michelangelo Marisi da Caravaggio, and is often dated anywhere from 1601 to 1610.
Manbaby is the Artist's most recent work, and can be seen prominently displayed in the Study.